How Often Should You Change Your Oil?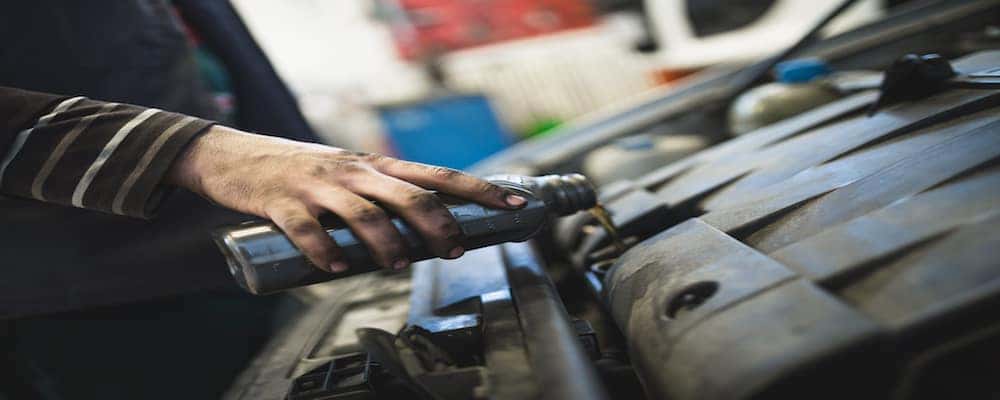 Changing your oil regularly is an important part of keeping your Land Rover vehicle as healthy as possible. Experts recommended oil changes every 3,000 miles in the past, but thanks to advancements in oil and engine technology, the number has risen in recent years. Now, most vehicles can go between 7,500 and 10,000 miles before needing an oil change. But remember that it's always best to check your owner's manual for an exact number recommended by the manufacturer.
Oil Change Frequency Guidelines
While 7,000-10,000 miles is a broad guideline, you may need to change your oil sooner depending on your vehicle, and how you drive it. If any of these circumstances apply to you, check with Land Rover Charleston near Huntington if these affect when you should change your oil:
Off-roading
Commercial use
Racing
Heavy towing
More Oil Change Tips
Before you visit our Land Rover service center near Parkersburg, check out these facts about oil changes. If you have any questions, reach out to our service center at (304) 396-1471.
Even if you don't drive your car much, your oil should still be changed twice a year at the very least. Even with infrequent use, your vehicle's oil still breaks down over time.
Whenever you get your oil changed, make sure your filter is replaced too. You can always stop by the parts department at Land Rover Charleston and grab an oil filter if you're a do-it-yourselfer.
Wondering whether to use synthetic vs. conventional oil? Check your owner's manual. Though synthetic oil costs more, some vehicles, especially Land Rover models, require it.
How Often Should I Check My Oil Level?
Checking your oil level once a month will ensure you detect any problems or leaks. Oil problems, or having no oil, can have drastic impacts on performance and vehicle health. Make sure your oil isn't changing color, and that it contains no metal particles or debris of any sort. These can be signs of a potentially serious problem. If you're low on oil or notice another issue, schedule a service appointment with Land Rover Charleston today.
Get Your Oil Changes at Land Rover Charleston
We offer low prices on oil changes, as well as a rotating selection of service coupons for many of our most popular maintenance and repair tasks. Contact us with any questions today, or come in to Land Rover Charleston for a quick oil change today!
More Service Tips From Land Rover Charleston
Using the wrong type of gas for your vehicle can cause a number of unwanted problems. While mixing up certain types of gas doesn't always create issues, but it is very important to align with what your owner's manual calls for. For Land Rover vehicles, you should always try to use premium gasoline. There are…

Changing your oil regularly is an important part of keeping your Land Rover vehicle as healthy as possible. Experts recommended oil changes every 3,000 miles in the past, but thanks to advancements in oil and engine technology, the number has risen in recent years. Now, most vehicles can go between 7,500 and 10,000 miles before…

Service Department Schedule Service Parkersburg drivers know that taking care of their new Land Rover is important to keeping it going for years to come. One important aspect of vehicle care that some drivers may overlook is tire care. It might sound silly saying some drivers forget to care for the tires that keep them…