If you go to your local authorized service center for your next oil change in Huntington, you might be able to get quick service in about 30 minutes or less, since the brand-certified technicians will know your vehicle very well. Learn more about oil change estimates at Land Rover Charleston below, and contact us if you have any questions!
How Long Should an Oil Change Take at a Service Center?
When you choose a Land Rover-certified service center to change your oil, the oil change itself shouldn't take long, especially if you schedule an appointment ahead of time. However, if you stop in during peak hours there may be a delay. You can always call the dealership to get a better time estimate, and they will probably tell you that earlier in the week or first thing in the morning are less busy times to go.
At Land Rover Charleston, Parkersburg-area drivers can take advantage of benefits like:
Rotating Land Rover service specials and parts specials
Service covered by the Land Rover warranty
Land Rover Prepaid Maintenance Plan options
Use of genuine Land Rover parts
If you don't mind waiting longer, technicians can also perform full vehicle service and inspections as part of the Land Rover maintenance schedule
For luxury models, it's not usually recommended to get your oil changed at a big box chain like Jiffy Lube. The technicians aren't Land Rover-certified, and since there is no accountability to the brand your vehicle may not be getting the luxury treatment that you've invested in.
When Should I Get an Oil Change?
Depending on how familiar you are with what's under your vehicle's hood, and whether you've performed frequent oil changes on other models, the time it takes to change the oil will vary. It's smart to budget at least an hour in case you run into issues, and be sure to have the following materials ahead of time:
Fresh oil, a new oil filter, and a new oil filter gasket
Rubber mallet, correctly sized wrenches, a jack, and wheel blocks
Gloves, rags, and towels for protection and easy cleanup
If you don't already have these materials, it will likely take less time and cost less to rely on your Parkersburg-area authorized Land Rover service center to change oil.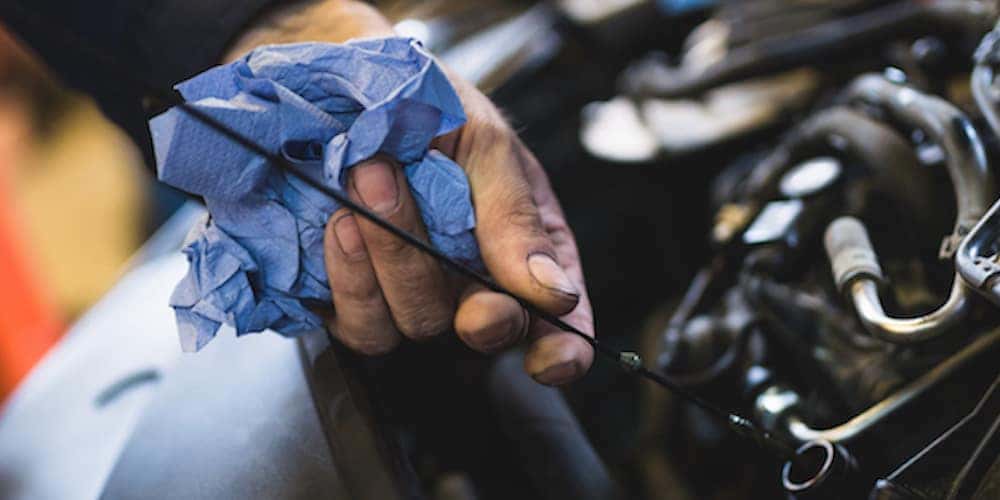 When Should I Get an Oil Change?
"How often should I get an oil change?" and "When should I get an oil change?" are two questions that we often get asked here at Land Rover Charleston. The simple answer is that for most new vehicles, you'll need oil changes every 5,000 – 7,500 miles as part of routine maintenance. Some models can even go 10,000 miles between oil changes.
The above having been said, if you have an older model and it already has a lot of miles on the odometer, the answer to "How often should I get an oil change?" changes to roughly every 3,000 miles. That having been said, your owner's manual will list the recommended oil change interval for your model, and it will also specify whether you need synthetic oil or conventional oil.
Rely on Land Rover Charleston for a Quick Oil Change
Schedule service at Land Rover Charleston when it's time for your next oil change now that you know how long oil changes generally take and how often you should get oil changes. When you do, our expert service technicians will get you in and out in no time. We're located just a short trip from Wheeling, and our qualified service team can handle any maintenance tasks from oil changes to tire rotations to brake repairs. You can also rely on us for more service tips and tricks, like how much is an oil change, so you can get to know your Land Rover better, and learn more about major vehicle components like transmissions and more.