How Often Should You Rotate Your Tires?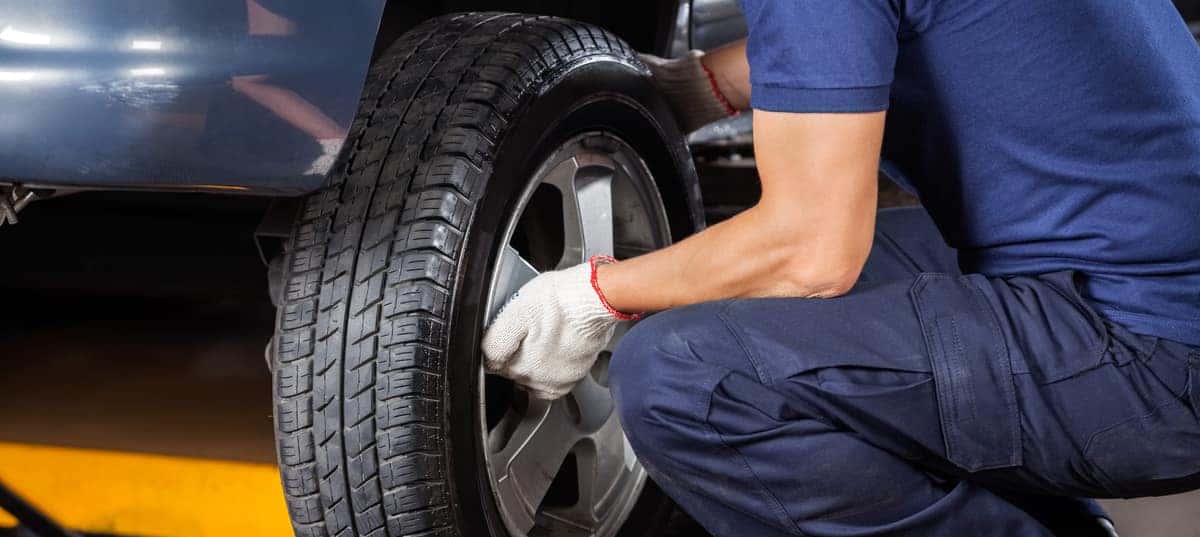 How often should you rotate your tires? Tire rotations should happen every 5,000 to 7,500 miles. Keep in mind that this is a ground rule, and you can find the exact figures in your vehicle's owner's manual. Want to know when to rotate tires? Check out the handy guide from the Land Rover experts at the Land Rover Charleston service center.
---
Rotating Tires on FWD and RWD Vehicles
Front- and rear-wheel drive is where the engine power goes. With front-wheel drive cars, the power goes to the front tires, while with rear-wheel drive vehicles, it goes to the rear tires. The tires that get most of the power wear out faster than the others. Below are helpful rotation tips for FWD and RWD vehicles:
Tire rotations on FWD or RWD cars should be performed every 5,000 to 7,500 miles. Your owner's manual should have the exact details.
For an at-home FWD tire rotation, remember to flip sides when moving the rear tires. For example, the rear right tire will go on the front left. When moving the front tires to the back, keep them on the same side.
When rotating tires on an RWD car, transpose the process above. You need to flip sides when moving the front tires to the back while keeping the rear tires on the same side when moving them forward.
How you drive, like off-roading, affects when a tire rotation is needed. Speak with a service expert at Land Rover Charleston for a better idea of a maintenance schedule that fits your driving habits.
AWD Tire Rotation Tips
How many miles to rotate tires on an all-wheel drive model? AWD cars are a bit different, as each tire wears differently. Most Land Rover experts recommended every 3,000 to 5,000 miles. If you're not sure when the last tire rotation was, schedule a service appointment for an inspection to see if a rotation is needed.
Why is a Tire Rotation Needed?
Tire rotations extend the life of your tires, as well as offers these additional benefits:
Improved traction on slippery roads
Less noise on the road
Relieves unnecessary stress on the drivetrain
Tire rotations will also prepare you for hazardous weather around Wheeling, so keep it as part of your maintenance plan. If a replacement is needed, our tire center can help you out!
Get More Tire Care Tips at Land Rover Charleston!
For additional information regarding tire care or other service tips like how to check your transmission fluid, contact our service center today. Learn the best off-road tires for Range Rover! Our Land Rover-certified and trained technicians are here to answer all of your questions.
More from Land Rover Charleston
The 2023 Range Rover Evoque provides drivers with a unique style and advanced technologies to make your Huntington drives more enjoyable thanks to features like a leather steering wheel, powered tailgate, and a premium audio system for concert-like quality sound. Learn more about the Range Rover interior at Land Rover Charleston, then be sure to explore…

If you're looking for a luxury SUV to take on your everyday needs and weekend adventures, the latest Range Rover is the vehicle for you! Not only does it offer premium amenities, advanced technologies, and powerful engine performance, but with the variety of Range Rover exterior colors, you can find one that also matches…

The 2023 Land Rover Defender price ranges from $52,300 MSRP* for the entry-level Defender 90 S, to $114,600 MSRP* for the high-end Defender 110 V8 Carpathian Edition. No matter which Land Rover Defender you choose, you'll find a Land Rover Defender 90 or 110 that offers forward-thinking design and features that breathe new life…