Why is Tire Rotation Important?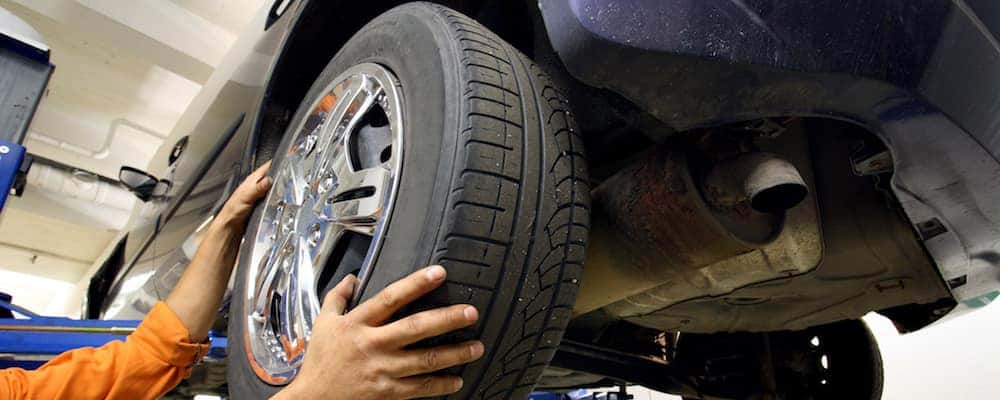 If you own a vehicle, you know that regular vehicle maintenance is important for the safety and longevity of your vehicle. This includes things like oil changes, battery tests, replacing fluids, and even tire rotation. But why is tire rotation important? The fact is that tire rotation not only increases the life of your tires, but it also increases your safety on the Huntington roads. Rotating the tires promotes even tread wear on your tires, which is important to your safety. Learn more about tire rotation below.
How Does Drivetrain Affect Tire Rotation?
Any act you perform while driving — acceleration, braking, turning, etc. — all this requires friction between your tires and the Huntington roads. Depending on the drivetrain of your vehicle, your tire treads will wear out at different rates.
Front-wheel drive vehicle: The front wheels get the full power of the engine and are responsible for steering, starting, and the majority of the stopping force. Because of this, the front tires will wear out very quickly.
Rear-wheel drive vehicle: Here, the rear wheels get the engine power, but the front wheels are still responsible for most steering and braking. Rear tires will wear out faster than the front tires, but at a slower rate than a FWD drive car.
All-wheel drive vehicle: Power from the engine is even distributed, but most experts maintain that the rear tires will wear out faster than the front in an AWD vehicle.
Intelligent all-wheel drive systems: Taking a turn puts various levels of stress and friction on the inside and outside tires. Advanced/Intelligent all-wheel drive systems are capable of sending power to an individual wheel during a turn for improved handling, which further affects tire life.
What Happens if I Don't Rotate My Tires?
If you don't schedule service every 5,000-7,500 miles, or every time you need an oil change, to rotate your tires, this will make them wear out much faster than necessary. Not rotating and replacing tires at the proper mileage and/or time intervals can cause problems such as:
Poor traction and skidding on the roads
More rapid deterioration of brake pads
Flat tires and blowouts
Get the Service You Need at Land Rover Charleston
From tire service to jump starts and all other general maintenance needs, come to Land Rover Charleston near Wheeling. Ready for your next service appointment? Browse our service specials to see how you can save on your next appointment. Contact us today with any questions about when to rotate tires, proper tire care, or any concerns you're having!
More Service Tips From Land Rover Charleston
If you own a vehicle, you know that regular vehicle maintenance is important for the safety and longevity of your vehicle. This includes things like oil changes, battery tests, replacing fluids, and even tire rotation. But why is tire rotation important? The fact is that tire rotation not only increases the life of your tires,…

There are a variety of reasons why your battery may die that requires you to jump start your car. Sometimes it just occurs because the battery is getting old, or sometimes you leave interior or exterior lights on that drain the battery overnight. If you are ever in a situation where your battery is dead,…