How to Jump Start A Car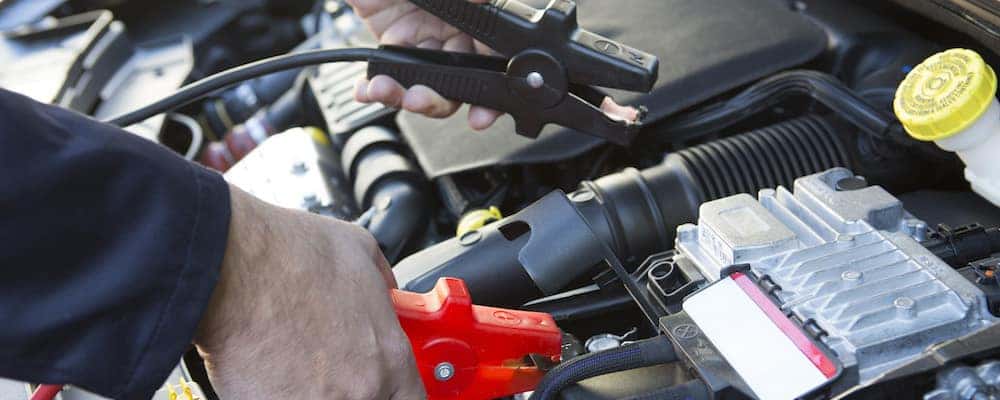 There are a variety of reasons why your battery may die that requires you to jump start your car. Sometimes it just occurs because the battery is getting old, or sometimes you leave interior or exterior lights on that drain the battery overnight. If you are ever in a situation where your battery is dead, use these tips to find out how to jump start your car and get back on the Charleston roads. To start, you'll need jumper cables and another vehicle, or a service like AAA.
How to Properly Jump Start a Car
Face the car with the good battery towards the car with the dead battery, making sure that vehicle is off. Engage both parking brakes.
Open the hood of both cars and locate the batteries. On some models, you may need to remove a plastic hood to expose the battery terminals.
Identify and clean the positive and negative terminals of the batteries, making sure to remove any corrosion.
Connect red clamp to the positive post of the dead battery.
Connect the other red clamp to the positive terminal of the working battery.
Connect the black clamp to the negative terminal of the working battery.
With the other black clamp, connect it to an unpainted metal surface on the car's frame.
Once everything is securely hooked up, start the engine of the car with the good battery, then the car with the dead battery.
Additional Battery Tips and Tricks
If your car won't jump start, this may be a sign that you need a new battery or that there is a more serious problem at play. Should you car not jump start, following these troubleshooting methods:
If you only hear a clicking sound, the starter in your car may not be functioning properly. Schedule service at Land Rover Charleston near Parkersburg to get a replacement fitted.
If your electrical systems are functioning but the engine won't turn over, this could signify a number of potential issues. The battery, ignition switch, starter, or a fuse could be malfunctioning. Visit our Charleston service center to have the issue properly diagnosed.
Leave the vehicle running for a good while after a successful jump start. This allows the battery to regain a full charge after being depleted.
Get Your Vehicle Serviced at Land Rover Charleston
From jump starts to oil changes, and everything in between, Land Rover Charleston is here to help. Our service centered is staffed with expertly trained technicians, so stop by today or contact us online to schedule an appointment!
More From Land Rover Charleston
The 2023 Range Rover Evoque provides drivers with a unique style and advanced technologies to make your Huntington drives more enjoyable thanks to features like a leather steering wheel, powered tailgate, and a premium audio system for concert-like quality sound. Learn more about the Range Rover interior at Land Rover Charleston, then be sure to explore…

If you're looking for a luxury SUV to take on your everyday needs and weekend adventures, the latest Range Rover is the vehicle for you! Not only does it offer premium amenities, advanced technologies, and powerful engine performance, but with the variety of Range Rover exterior colors, you can find one that also matches…

The 2023 Land Rover Defender price ranges from $52,300 MSRP* for the entry-level Defender 90 S, to $114,600 MSRP* for the high-end Defender 110 V8 Carpathian Edition. No matter which Land Rover Defender you choose, you'll find a Land Rover Defender 90 or 110 that offers forward-thinking design and features that breathe new life…