2019 Summer Events in Charleston, WV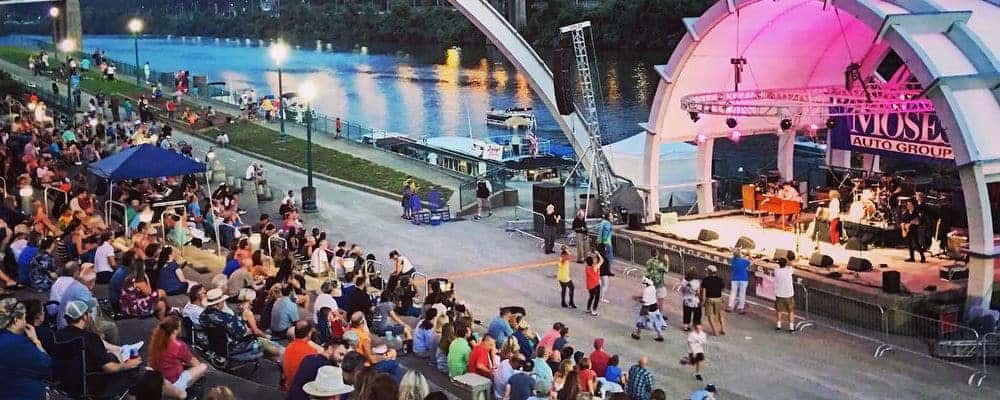 Ready to plan your summer in Charleston? Check out our guide to Summer 2019 events, activities, and attractions near Huntington, then check out places to eat in Huntington, and be sure to contact us at Land Rover Charleston if you have any questions!
Live on the Levee – Memorial Day-Labor Day 2019
Fridays at 6:30pm, Haddad Riverfront Park
Live on the Levee is a concert series that you can enjoy every Friday, starting Memorial Day weekend and ending on Labor Day weekend. It is family-friendly and free admission, but donations and vendor sales raise money for charities like the YWCA, Manna Meal, and more organizations in the Wheeling area. Enjoy a warm summer evening on the Kanawha River!
FestivAll – June 16-30, 2019
FestivAll is celebrating its fifteenth year with fifteen days of art, including theater, visual art, dance, fine art, pop art, music, and more. It is a non-profit event and organization that turns Charleston into a destination for art, with over 600 artists from around the world, over 80 events, over 35 venues. You can walk down the street and listen to musicians, browse paintings, and run into the unexpected. Many of the events are low-cost or free, so be sure to explore! Some of the main events include:
Capitol Street Art Fair
Smoke on the Water Chili Cook-off
B&B Riverboat Rides
Dance FestivAll
Five-Day Film Challenge Screenings
Wine and Jazz Festival – June 23, 2019
2pm-10pm, University of Charleston lawn
Part of FestivAll 2019, the Wine and Jazz Festival is advertised as the "best summer party in Charleston!" This event is for Funds for the Arts, with $25 advance tickets and $35 at the door. You can enjoy regional wines and delicious food while relaxing to the sounds of award-winning jazz musicians.
Vintage Flea Market – July 20, 2019
10am-6pm, City Center East
Are you looking for a unique piece of furniture to make an impact in your living room? Trying to find the perfect antique costume jewelry for your next cocktail party in Parkersburg? Looking for collector's items? Come to the Vintage Flea Market on Saturday, July 2oth and discover all the treasures that await, hosted by the Kanawha City Community Association.
Dogfest – August 10, 2019
5:30pm-9pm, Capitol Street
While there are many Downtown Streetfest events held regularly in the summer, Dogfest is a special dog-centric version. Take your dog to Capitol Street to enjoy live music, dog pools, contests, toys, and treats! There will also be artists to do dog portraits, rescue groups, misting tents to keep your dog cool, and kids activities. Even if you don't own a dog, come support the event and bask in the beauty of happy canines!
More Charleston, WV Events Summer 2019
There are so many events happening this season, be sure not to miss out on more awesome summer activities and attractions happening near you!
Discover the Area with Land Rover Charleston
Whether you are looking for things to do in Huntington, things to do in Charleston, or places to eat in the Huntington area, Land Rover Charleston can help. Let us be your resource for Charleston events and recommendations, and contact us with any questions!
Learn More at Land Rover Charleston
The 2020 Land Rover Discovery is now available in authorized Land Rover dealerships everywhere, and this versatile and rugged luxury SUV can deliver the features and power you're looking for, with four different configurations to choose from. Explore the Land Rover Discovery prices, trim levels, and features at Land Rover Charleston to find out which configuration to take…

What are the 2020 Land Rover Range Rover Velar price points? As the second-most affordable luxury SUV in the Range Rover family, this model is a great choice for fans of the Land Rover brand in Huntington and Parkersburg. Explore Range Rover Velar costs over the four offered trim levels, and find out which configuration…

The Range Rover Evoque has been redesigned for 2020 and this comes with more fuel efficiencies than ever. Explore the 2020 Range Rover Evoque fuel economy ratings below, then contact Land Rover Charleston near Parkersburg to learn more about the latest features on this compact luxury SUV or to schedule a test drive! New Inventory Contact Us…