How to Do a Tire Rotation Yourself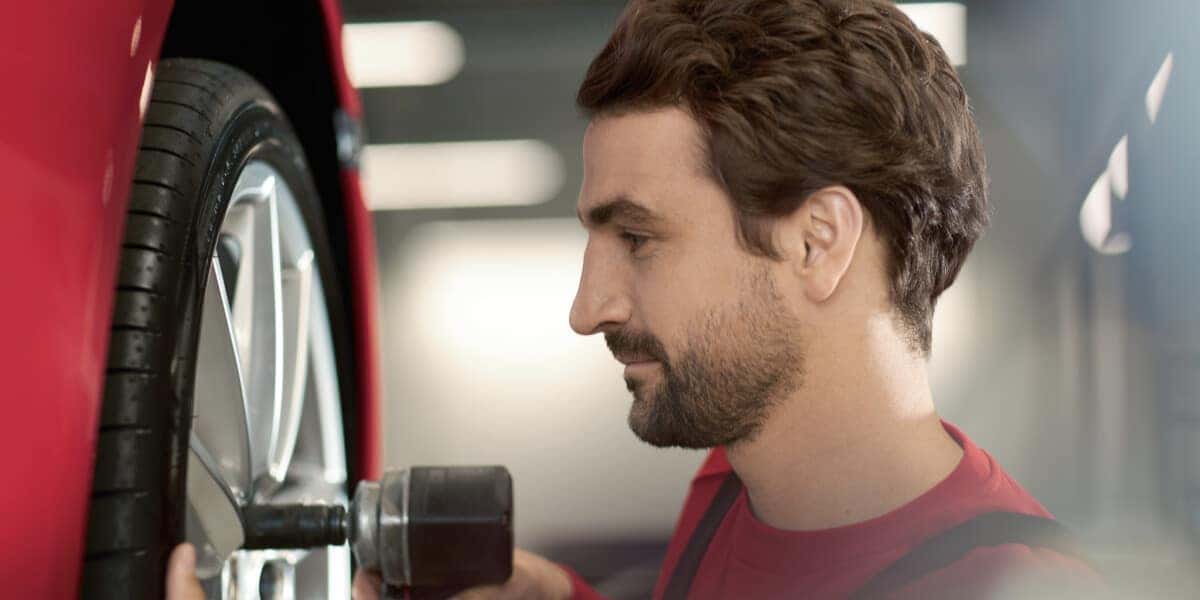 Whether you plan on rotating your tires at home near Huntington or you would rather visit our Charleston service center and have a factory-trained mechanic handle this service, tire rotations are an essential service that you shouldn't skip. Rotating tires regularly provides better traction on the roads while extending the life of your tires. Check out our guide on how to rotate tires at home.
---
How Often Should You Rotate Your Tires?
Due to various driving habits and road conditions, not all tires wear evenly, which is why rotating your tires is essential. Front- and rear-wheel drive vehicles normally need a tire rotation every 5,000-7,500 miles. All-wheel drive vehicles require frequent changes at every 3,000-5,000 miles because their tires are actively engaged, which results in faster wear. It's best to refer to your vehicle's owner's manual for more specific recommendations.
The Importance of Tire Position
FWD Tires: You can move the front tires to the back of the car in the same left/right positions. When you move the rear tires to the front, switch the right and left tires.
RWD Tires: The opposite is true with RWD vehicles. The rear tires can be moved to the front of the car in the same left/right positions, but when you move the front tires to the rear, switch the left and right tires.
How to Rotate Tires at Home
If you're interested in rotating your tires at home near Parkersburg, you'll need a car jack, lug nut wrench, and a set of car jacks. Once you have the tools necessary, follow these six easy steps:
Engage your parking brake as a safety precaution.
Loosen the lug nuts on all four wheels without taking them completely off. This step makes unscrewing them when the tire is elevated much easier.
Lift one wheel with a car jack and place the jack stand underneath it.
Remove the tires one by one.
Use this time to make sure your tires are filled to the optimal tire pressure. Once filled, you can rotate them according to the appropriate pattern for your type of tires. Place the tire back onto the wheel mount and screw the lug nuts on by hand as far as you can.
Lower the car from the jack stands and use the lug wrench to finish tightening the nuts. It's recommended that you work the lug nuts diagonally from one to another in a star pattern to make sure that everything tightens evenly. If the lug nuts aren't tightened evenly it can cause the brake rotor to warp.
Have Your Tires Rotated Near Wheeling
Don't feel comfortable rotating your tires? That's okay – we have a team of trained mechanics who can take care of everything for you. Be sure to explore our service specials before visiting our Charleston service center for your next tire rotation. Call our service center if you have any questions or when you're ready to schedule your service appointment.
More from Land Rover Charleston
The 2023 Range Rover Evoque provides drivers with a unique style and advanced technologies to make your Huntington drives more enjoyable thanks to features like a leather steering wheel, powered tailgate, and a premium audio system for concert-like quality sound. Learn more about the Range Rover interior at Land Rover Charleston, then be sure to explore…

If you're looking for a luxury SUV to take on your everyday needs and weekend adventures, the latest Range Rover is the vehicle for you! Not only does it offer premium amenities, advanced technologies, and powerful engine performance, but with the variety of Range Rover exterior colors, you can find one that also matches…

The 2023 Land Rover Defender price ranges from $52,300 MSRP* for the entry-level Defender 90 S, to $114,600 MSRP* for the high-end Defender 110 V8 Carpathian Edition. No matter which Land Rover Defender you choose, you'll find a Land Rover Defender 90 or 110 that offers forward-thinking design and features that breathe new life…