Hand Car Wash vs. Touchless Car Wash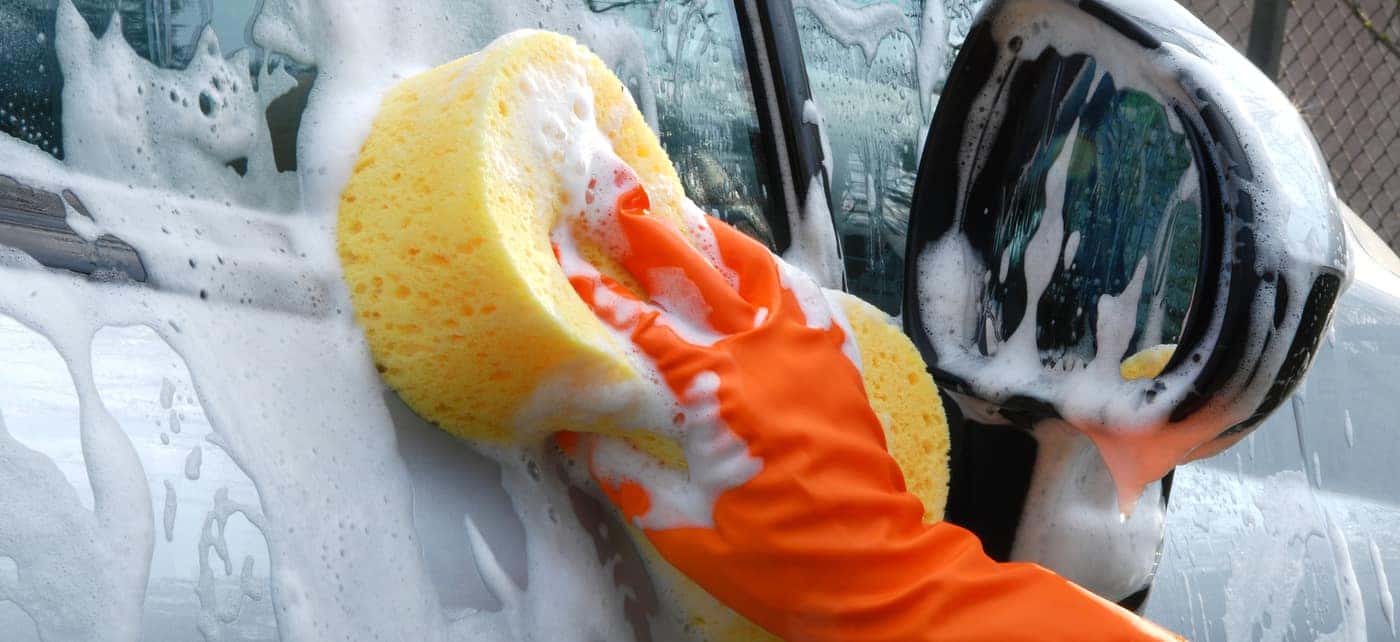 Could your Land Rover vehicle use a good cleaning? Whether you've been kicking up dust on the backroads or there's been a lot of rain in the Huntington area, it may be time to give your vehicle a good wash. Hand car wash and touchless car wash options are available, but which is better for your vehicle? There are advantages and disadvantages to both, which is why the service team has your guide to performing a hand wash car wash and touchless car wash.
---
Hand Wash Car Wash Facts
If your car needs a thorough wash, a hand car wash is the better option. You can do this yourself right at home near Parkersburg! Learn the pros and cons below:
Hand Car Wash Advantages
A More Thorough Clean – This means your vehicle is getting a deeper clean, as you can get into the small crevices that are usually missed by a hands-free car wash. This means you can get rid of eyesores like dried bugs on the windshield or headlights.
Affordable – Washing your car at home vs. having someone else wash it saves you money.
Hand Car Wash Disadvantages
You'll Pay a Bit More at Specialty Facilities – You will pay more for getting your car washed at a dealership or specialty facility than going the DIY route at home.
Car Paint Could Be Damaged – This could happen if you hand wash your vehicle too frequently.
Touchless Car Wash Facts
A touchless car wash, or a hands-free car wash, is the automatic mechanized car wash everyone loved going through as kids. They are usually cheaper than bringing your car in for a hand wash, but they also have their advantages and disadvantages:
Hands-Free Car Wash Advantages
Convenience – Automated car washes are designed for speed and efficiency, having your car leaned in about 10 minutes.
Easier on Your Paint – They are gentle on cars to avoid paint scratching and damage.
Cheaper Costs – Since there's no manual labor, the costs are relatively low.
Hands-Free Car Wash Disadvantages
End Result Might Be Unsatisfactory – Since they're made to be gentle on car paint, they're not always the best at removing stuck-on debris.
Water Spots – The air dryers that are typically located at the end of automatic car washes to remove any stray water droplets are not always effective. Your car may end up with water spots.
Get a Professional Car Wash in Charleston!
If you're searching for a reliable car wash service near Wheeling, you can trust the friendly service at Land Rover Charleston. Give us a call if you have any questions or to schedule your appointment. We also offer unbeatable service specials to help you save on your next visit.
More from Land Rover Charleston
The 2023 Range Rover Evoque provides drivers with a unique style and advanced technologies to make your Huntington drives more enjoyable thanks to features like a leather steering wheel, powered tailgate, and a premium audio system for concert-like quality sound. Learn more about the Range Rover interior at Land Rover Charleston, then be sure to explore…

If you're looking for a luxury SUV to take on your everyday needs and weekend adventures, the latest Range Rover is the vehicle for you! Not only does it offer premium amenities, advanced technologies, and powerful engine performance, but with the variety of Range Rover exterior colors, you can find one that also matches…

The 2023 Land Rover Defender price ranges from $52,300 MSRP* for the entry-level Defender 90 S, to $114,600 MSRP* for the high-end Defender 110 V8 Carpathian Edition. No matter which Land Rover Defender you choose, you'll find a Land Rover Defender 90 or 110 that offers forward-thinking design and features that breathe new life…